Snorkel with Whale Sharks
Mid March – End of August

"What is the chance to actually see the biggest fish in the sea?" Ningaloo is the worlds leading Whale Shark destination with a non sighting policy in place! In the rare case you don't see a Whale Shark on your trip, you get the next possible spot for free. Some companies are now also offering refunds.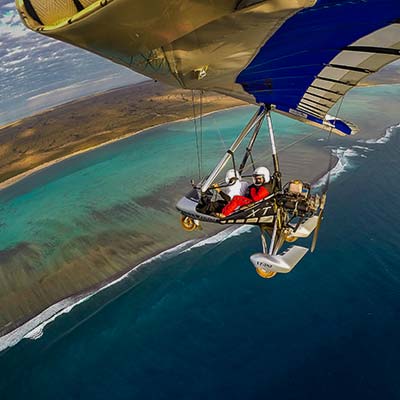 Soar Like a bird on a Microlight flight
All year around
The most exciting thing to do out of the water! Out in the open, you feel a freedom combined with an adrenaline rush and the sheer beauty of Ningaloo! One step up from the scenic flight! Best thing hands down, and an experience you will talk about for a long time and never forget!
Swim with Humpback Whales
July –November


The West Coast of Australia has the largest Humpback Whale population in the world! It was estimated approximately 30,000 Humpbacks make their way up the coast from Antarctica to the calving grounds from Ningaloo northwards in 2012. The Exmouth Gulf plays an important part in nursing the young calves in preparation for the long journey back to the Antarctic! In 2007 there were 4 times more whale sightings than in Harvey Bay on the east coast of Australia! (officially the best place to see Humpbacks!). Pods usually spend 6-8 weeks in the Exmouth Gulf, breaching in spectacular fashion, "tail sailing", or slamming their fins and tail on the surface. Because the Exmouth Gulf is very shallow and has a sandy bottom, it is a safe haven and place to rest. Most humpbacks are very curious and come right up to the boats! An incredible experience!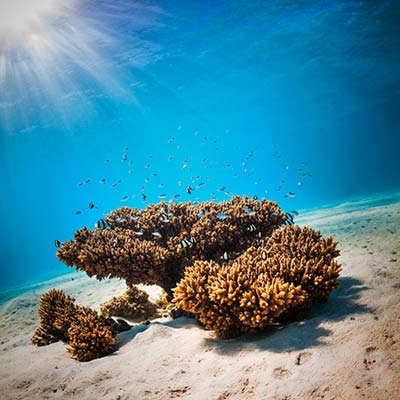 Snorkel Turquoise Bay, Oyster Stacks and Lakeside
All year around

With Ningaloo Reef right there in front of you, it takes only a few meters to swim and you are on top of pristine coral reef! If you haven't snorkelled yet, practice in the pool a little beforehand. This is our biggest attraction and you don't want to miss out! Drifting downstream with the light current parallel to the beach, over some of the best coral reefs in the world, you will come across a myriad of tropical fish, turtles, little reef sharks, sting rays and sometimes even leopard shark or a dugong.
See Gentle giants in Coral Bay
All year around

Coral Bay is the only known destination in the world to have year round Manta Ray interaction. In Exmouth, we also have giant Manta's throughout the year, however nobody offers specific tours. There is a high chance you will see Mantas during a Whale Shark or dive trip. Snorkelling with these harmless, gentle giants is an experience of a lifetime! While there is no guarantee you'll see them in Coral Bay, the chances are very, very high. Similar to the Whale Shark operations, they use a spotter plane to find the Mantas. Several cleaning stations and the large, shallow turquoise lagoon offer the perfect place to snorkel with them. These gentle giants grow up to 7 metres in wingspan, yet most of the Mantas are around 3-5 metres!

Coral Bay is only 150 km south of Exmouth – about a 90 min. drive along some spectacular valleys full of giant termite hills! Start early in the morning and head for Coral Bay, see the Manta Rays and enjoy a snorkel along some magnificent corals or grab a quad bike tour! Loads of fun and return to Exmouth the same day!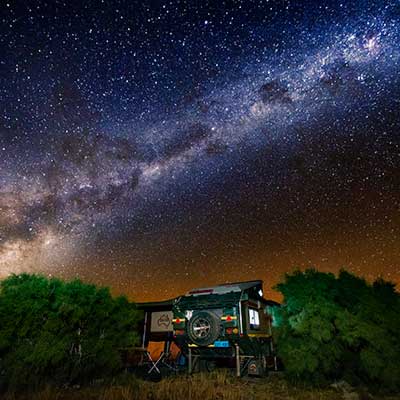 Stargaze
All year around


There is nearly zero light pollution at North West Cape – an ideal place to view the night sky. Let millions of stars take your breath away. Best around new moon.
Best time to see the Milky Way is between May and September.
Dine at Whalers Restaurant
All year around

Nested within the Escape Resort, Whalers has a wonderful alfresco setting by the pool and serves some of the finest menus in town. Owner and chef Paul also runs the micro-brewery «Whalebone» in town, and the beer is available on tap from the bar.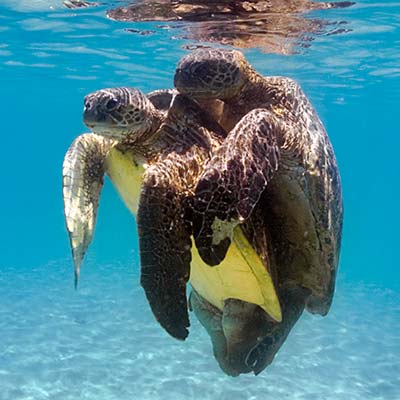 Watch Sea Turtles mate and nest
October – February


4 of the 5 known Sea Turtles lay their eggs at Ningaloo. Special tours are organised by Department of Biodiversity and Attractions with some operators taking customers out at night to see the turtles lay their eggs! The real deal right in front of you – a night you will never forget! 6–8 weeks later baby turtles hatch!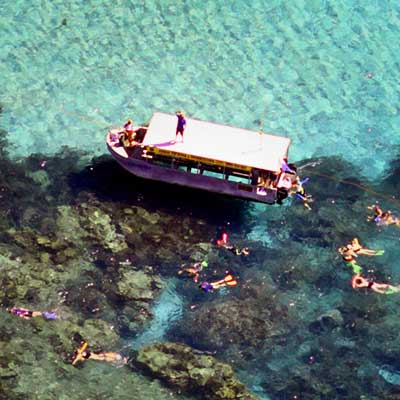 Discover the reef on a Glass Bottom Boat Tour
All year around


Ningaloo Ecology Cruises is not only entertaining and fun but is highly educational and exciting!  The tour guide Alec's understanding and knowledge of this part of the reef he has been working on for several years now is amazing. Hold your breath as you cruise over big coral blocks! Find sharks, turtles and rays and enjoy snorkelling parts of the reef you can only get to by boat! Even if you are a scuba diver, this is a great trip!

[Photo courtesy of Ningaloo Ecology Cruises]
Visit Yardie Creek, Charles Knife Gorge & Shothole Canyon
All year around


These gorges reward your visit with spectacular scenery. Charles Knife is best visited late afternoon and offers amazing views into deep canyons and over Exmouth Gulf from the top of Cape Range. Yardie Creek is home to a little colony of black footed rock wallabies and a great place to spot bird life and marine life in the water. Shothole Canyon can be accessed by 4WD only.
Dive Lighthouse Bay
All year around


With only 12 metres in depth on average, diving in Lighthouse Bay is simple and easy, but absolutely amazing. Various dive sites are marked with moorings and dive operators visit this site regularly during their tours. At 'Labyrinth' the chance to dive with sea turtles is pretty much 100%.
Get your coffee fix at the Social Society Exmouth
All year around


This buzzing little vegetarian and vegan café is so much more than just another eatery. It is a social hub where you can hang out with people young and old, buy environmental friendly products and ethical clothing and surf the net. They often host social and community events.
[Photo courtesy of The Social Society Exmouth]
Surf at Dunes, Hunters or Wobiri
All year around (best during winter)


Those three surf spots are only a short drive from town or the national park (if you are staying at Neds or Mesa) and easily accessible from shore. Wobiri beach is excellent for beginners and kids, while Dunes and Hunters beach suit more advanced surfers.
Visit the Ningaloo Centre
All year around


This iconic building in the centre of Exmouth was completed in 2017 and is well worth a visit, especially when the weather less then ideal for outdoor activities. It hosts an excellent museum about the history of the North West Cape and great information about Ningaloo Reef. If snorkelling is not your thing or kids are too little, the aquarium will get you a snapshot of the reef without getting your feet wet. Lots of fun for kids with interactive displays.
The Ningaloo Visitor Centre is also located in this building.

[Photo courtesy of Ningaloo Centre]
Visit Milyering Discovery Centre
All year around


Located in the heart of Cape Range National Park this place is well worth a visit. Built of rammed earth and powered by solar energy, Milyering Discovery Centre was the first totally environmentally friendly building of its type in Australia hosting a great display about wildlife and marine life in the area as well as a little shop where you can buy light refreshments and souvenirs.
Spot Sea Turtles hatch
Mid January – late March


Sea Turtle hatchings leave their nest 6–8 weeks after the eggs have been laid. There is a bit of luck involved but the spectacle of some 100 little baby turtles emerging from the sand and rushing to the sea is amazing to witness. Please don't pick up any of them or stand in their way.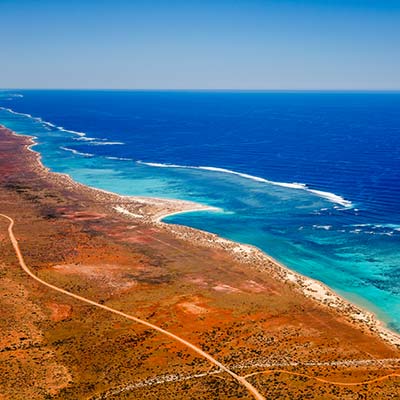 Book a Scenic Flight
All year around


Driving into the region is nothing short of boring! With hardly any rainfall don't expect a tropical rain forest! Having said that, it works out to be spectacular from the air! The rugged Cape Range, deep red coloured sand dunes, deep gorges mixed with white beaches, turquoise lagoons and the deep blue Indian Ocean are simply breathtaking! Leaving Ningaloo without having seen it from the air is like not having seen it underwater! You missed the best!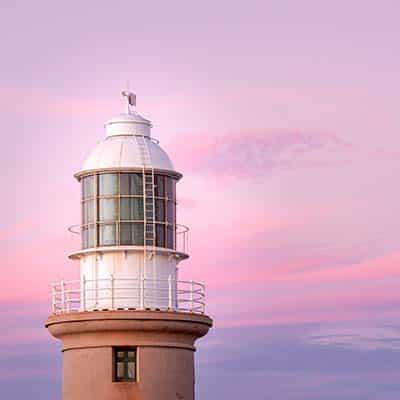 Watch the Sunset at the Lighthouse
All year around


Sitting at Vlamingh Head, the tip of Cape Range with its picturesque, over 100 years old lighthouse overlooking the Indian Ocean at sunset is magical. Bring some snacks, bubbly or a coldie – what more can you ask for? Arrive early during busy season to get a spot!
Dive the Navy Pier
All year around


Classed as one of the top 10 dive sites in the world, this place is a must see if you are into scuba diving. With its no-fishing zone and restricted access due to being within a military area divers are greeted by an incredible amount of fish some not so common marine life, such as stone, scorpion and frog fish, grey nurse sharks and a massive grooper.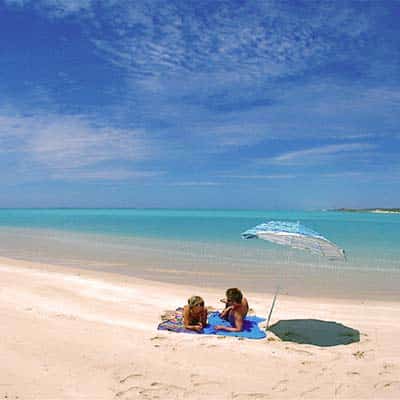 Relax at Sandy Bay
All year around


This is one of the most beautiful and romantic bays! The pure, clean, white beach slopes slightly into the turquoise lagoon! Crystal clear warm water and just sand, sand, sand. Most people miss this bay because it is not well advertised! Perfect for kids too, as it is so shallow and slopes in very slightly. Excellent kite surfing spot in right conditions.
Try crafted beers at the two micro-breweries Froth and Whalebone
All year around


Exmouth is now home to two amazing little breweries. Both produce excellent beer varieties. Try Froth for a full dining experience and entertainment all week. Whalebone has a more relaxed outdoor setting which is very family friendly. The 'only' food served here is excellent pizza. They also have regular live music gigs. Get there early as the place fills up pretty quick especially on the weekend.

[Photo courtesy of Whalebone Brewing Company]
Kite-surf Grave yards & Sandy Bay
All year around (best in summer)


Ningaloo is fast becoming a bit of a kite surfing Mecca. On a Southerly or Southwester, grab your kite and head out to Grave Yards, near Yardie Homestead caravan park or to Sandy Bay in the national park. If it's an Easterly breeze, Exmouth town beach or Bundegi are good spots.

[Photo courtesy of Exmouth Surf Centre]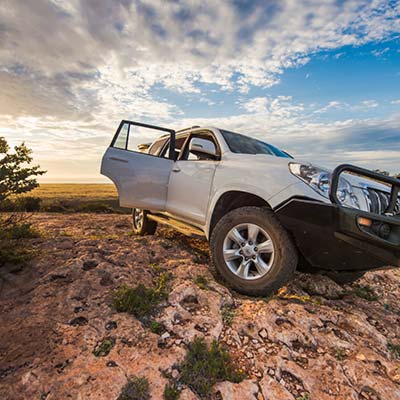 Go on a Four Wheel Drive Tour
All year around

Yes I know what you are thinking: 'we do it ourselves or, been there done that…' – and that's all fine. But the stuff you are going to see with a guide is just unbelievable and you would never have known how diverse the Cape Range is! If you think you need to save a buck, don't save it on the wrong thing. The wildlife you will miss out on, the history and insight information makes one of these trips priceless!
Ready to unplug and recharge your soul?